Artist(s): Da Goldminerz
Mixtape: The Golden Era (2011)
Overall Rating: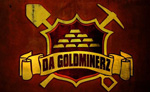 If you thought lyricism and horror-core rap was something of the past, you obviously haven't heard the Da Goldminers latest LP, THE GOLDEN ERA. Hailing out of the Tampa, FL area, by way of that up north feel; they bring a dynamic face to the once underground scene that flourished back in the 90's. With a new twist in production by Simon Roofless, the team goes in on what most lovers of lyricism will find to be a haven of poetic ingenuity.
Opening the album with the eerie story plot of aliens who invade earth for interludes; the listener already can catch a small hint of what's up and coming. What every listener who doesn't know this crew will NOT be ready for is the array of lyrics that will be thrown at them throughout the rest of this album.
From the beginning of the album, "In the Flesh" starts it off with a blend of lyrics and a heavy beat that Roofless is known well for. "What You Gonna Do" is reminiscent of a mix between CELLA DWELLAS and GRAVEDIGGAZ; and for those who know those two old school crews, it will become glaringly obvious that this is definitely not your average Tampa crew.
Some stand out tracks on this album were "Pick Axez" that was a definite REPLAY track. While "The Plan" doesn't have the strongest start to it, it quickly picks up the pace with dangerous wordplay and one of those hooks that told its own story like emcees used to do. While the production mix was not what I would have preferred, "Keep Shit Raw" still did its justice in lyrics. "Historical" was definitely the perfect outro track to the album. Here's some quotable for readers to chew on.
| | |
| --- | --- |
| "Precise aim with the slingshot and rock / pop your emperor and skate with the book of Enoch / we roll up on you niggaz like a gang of ewoks / I'm hip hop, Timbs and Adidas, no Nikes and Reeboks" - Simon Roofless from "Keep Shit Raw" | "End of this coming with a disasterous knock / it's the madness wit the shock causing strains to your voicebox / order more shots than clientele to bartenders / I send ya to the end of the year, like your stuck in december" - Duh Nokah from "Historical" |
While the production is unquestionably professional and clean, there is a hint of mixing that lacks in the production specifically. While the old school sound is almost undeniably concentrated on lyrics, the need for some of those background sounds like the FLUTE and STRUMMING on "Killin Senses;" or the background sounds on "Starvin Artists;" and the weightier sounds on "Inception" would have definitely made it sound a bit more impactful overall.
In conclusion, if you are LYRICISM FAN, you will definitely enjoy this album. If you're looking to shake your ass to some club music that you would hear on commercial radio, you might as well keep it moving. This is an album made SPECIFICALLY for the Hip Hop heads that enjoy substance and storyline music.
ALBUM RATINGS

Production:
Lyrics:
Mix:
OVERALL:
CD AVAILABLE FOR PURCHASE!
Due to overwhelming bootlegging, Da GoldMinerz has decided to keep their copies strictly on the physical CD level. You can purchase a copy on their official website.
SUPPORT HIP HOP CULTURE AND STOP STEALING MUSIC!!!