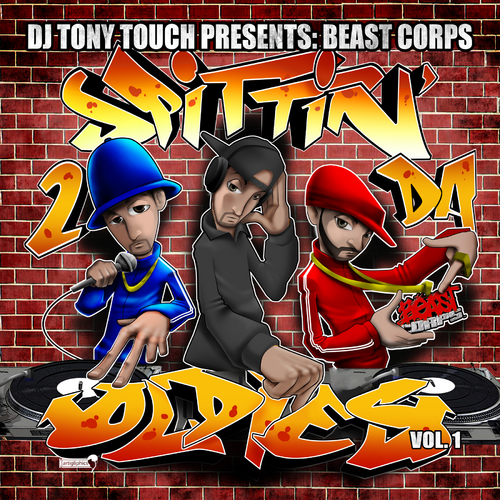 ARTIST(S):
Beast Corps / Tony Touch
MIXTAPE: Spittin' to Da Oldies, Vol. 1
RELEASED: 2012
OVERALL RATING:





In an age where jackin' for beats is the normal part of the journey; there comes the inevitable throwback mixtape that will take that concept and turn it into an ingenious piece of work. This is how the collaboration project between Tony Touch and Beast Corps felt with their "Spittin' To Da Oldies, Vol. 1" mixtape.
It's one of those mixtapes that is niched to the 90's era fan mostly; blending the older production with an authentic DJ touch, and then adding some witty lines and comical punch lines to resemble a bit of the "spoof rap" people like Redman and Lords of the Underground were well known for. (Yes, reader, if you remember these names and beats, YOU will soon realize these "oldies" meant the music YOU listened to as a teen… pause)
If there's one thing that the listener becomes quickly aware of, it's to not underestimate the power of a remake with Beast Corps behind it. Their ability to not only match the flow and delivery down to syllables; but their odd ability to blend even the mixes similar like in "New York City Love" that was an NY rendition of "California Love" complete with effects and melody to match.
Not only was the delivery and mix similar to their originals, but the wordplay was complimentary to each track. In "Twinz Pt. II," you even get the Spanish rap twisted into the wordplay on a Big Pun remake when they say… "My blood is puro, my corazon is oscuro / hit these menudo n***az with a little puerto rican judo."
The DJ feel to the whole project was definitely much needed in this era of automated mixtapes. Having the Tony Touch name and brand along with drops of everyone from Parish Smith, to Lord Finesse, and even Method Man on the intro to their remake of "Bring the Pain" called "F**kin' Wit the Beast".
The bottom line on this project is that it's for the golden era lovers. If you don't appreciate 90's era production, you probably will not like this mixtape much. It's the risk taken when doing projects like these. The mixes definitely sound more golden era than contemporary; so it won't have that advanced HD feel that younger generations are used to. Honestly, it's not supposed to.
While we hesitate to call this a spoof mixtape; that's the best way we can describe the style of lyrics and delivery. There are a lot of funny lines and scenarios Beast Corps paints throughout the entire mixtape. It makes for a very entertaining compilation of remakes that both compliment the instrumentals and helps make the songs their own.
Unfortunately, this also means a lack of serious tracks that most golden era fans also enjoy. There's not really much substance in a lot of the tracks beyond the fact that it's made to have a good time. So, while the wordplay was on point and the blends and drops have the listener going; there was no real MEAT to the project that could push it beyond a house party favorite.
WATCH THE VIDEO
ALBUM RATINGS

Production:
Lyrics:
Mix:
OVERALL:
Please
click here
for more information on guidelines for our bootslap rating system.