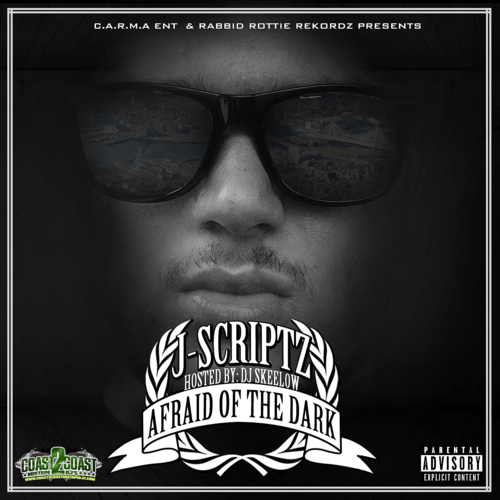 Artist:
J-Scriptz
Mixtape: Afraid of the Dark
Release Year: 2012
OVERALL RATING:





It's not often you get a well-rounded artist who can deliver on differing styles of a genre with the same energy and quality as that which makes them most comfortable. J-Scriptz is one of those kinds of artists. His ability to utilize various styles and incorporate them into his project is probably one of his greatest strengths; but it can also be costly in reviews like these that pick apart every aspect of a project from lyrics to production to mix.
To start off, the mixtape had a good vibe to it. While, it would have been preferable to hear less features; there were a lot of tracks with serious potential on this project. His intro titled, "Angels in the City" presented a strong introduction with lyrics to match the hard hitting production. He made it very clear he can get deep on a track and utilize wordplay and voice projection to his benefit.
Tracks like "More Than Ever" showed a real life depiction of love and its joys versus its struggles. He shows his devoted side on this by saying, "It's unconditional, my love for you is overdose / your baby blues are the reason I lost my lonely hopes / you helped me build a lifeline / that perfect smile got me staring for a lifetime." The women will enjoy this track on the emotional value it presents.
Another repeat track, and probably the strongest track on the project was "Afraid of the Dark" (the title track of course). From the production to the lyrics this cut was a definite banger. Unfortunately, the mix could have used some work to bring out the snares and some other 1K-ish frequencies. A small amount of compression on the instrumental probably would have also helped.
This was the major complication of the review throughout the project. While the songs were well put together; production selections were strong; and lyrics were delivered with quality; the mix lacked throughout the project, and It left the listener wanting to FEEL MORE of the track and not just the lyrics. While the overall objective of artists like this are to make the music vocally dominant on the mix to give clarity; sometimes it's overdone and the overall track loses the support of strong instrumentation. It seemed to be the case on this project.
Nonetheless, tracks like "Afraid of the Dark" still boasted lyrics like, "Try to cope, steady looking for a better half, I'm satan's prodigy profiting from a deadly past / It's so inaccurate, swiftly thinking I captured it; murdering all these pacifists thinkin they know half of it."
The only other feedback that could probably contribute to a better project on the next one would be to enlist a few singers. "Father Forgive Me" definitely needed a singer for the hook and "No More" was generally good; but could have stood out more on the vocal hooks. It was too bland of a melody and slightly drowned into the background of the song.
Overall, this is a good project to download and listen to. There's a few repeat tracks that made our playlists; so support your indies and download this project today. IT'S FREE!!!
ALBUM RATINGS

Production:
Lyrics:
Mix:
OVERALL:
Please
click here
for more information on guidelines for our bootslap rating system.