Artist(s): MB4
Overall Rating: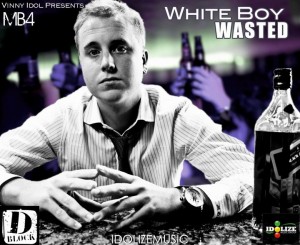 So, MB4 was sent to us for review; and initially, we had the usual, "Oh, here goes another white boy anthem rapper." We were definitely NOT expecting what we heard. What we found was a talented emcee that's gritty vocal sound most of these so-called "rappers" should take heed to.
With an album called, "White Boy Wasted," you would expect the usual regurgitated Beastie Boys swag, but MB4 presents his own brand of poetic fluidity with quality production that will definitely make some serious noise in the Hip Hop community. With features from the renowned Wyclef Jean, this artist has raised the bar and provided this game some QUALITY MUSIC that is worth more than just a simple pass through listen.
The track Wyclef features on called, "Grind" definitely gives us one of those update sing-song hooks, but the mixture of their vocals, delivery, and production make this a DEFINITE REPLAY TRACK. The progressions of, both, the music and wordplay work perfectly in this composition.
"Poison Dartz" has more of a Slaughterhouse feel, and MB4's lyrics are definitely not any less impressive. The only downside to this track is that it lacks some very important lower frequencies on the mix that make it lack some strength on the production end.
If there is any kind of artist that exemplifies what we here call BOOT SLAP RAP, this is it! Peep the tracks out below and watch out for this one!
ALBUM RATINGS

Production:
Lyrics:
Mix:
OVERALL: