Artist(s): Annex
Mixtape: Plan 4 Success Mixtape (2011)
Overall Rating:





This mixtape is definitely REFRESHING! It seems like this year's been one with long intros, and this album is definitely no exception (oh lord, sigh); but then the beat drops in and ears go completely at ease again. From the beginning of that drop, it was apparent that this review would be a good one.
From "Bump This" to "Bail My Mind," this mixtape motivates a person to put up the house and cards for the game, so to speak. The feelings of nostalgia quickly rush to any listener that remembers the golden age NYS mind state sound of Nas.
Annex exhibits a strong control over his flow and delivery, and he seems to know what beats fit him best throughout the mixtape. Some of his delivery is reminiscent of AZ, and while that's a compliment, this will be the main challenge for Annex. Stepping away from that sound and creating more of his own will be critical for his growth as an artist.
There are definitely "album fillers" in this mixtape, but not enough to bring the ratings down. Tracks like "Shit Happens" which didn't have the strength of his initial tracks; and "Lights On, Lights Off" seemed to be an attempt at appealing to clubs and a larger demographic. This just seemed a bit out of place on this album, or wasn't the best selection for this particular project.
Overall, the tracks and beat selection were on point with him as an artist, so it's clear the producer had a good feel for the artist and his angle of delivery. This chemistry is so critical, and they pulled it off very well. This is definitely a project you can listen to straight through.
Lyrically speaking, Annex brought his A-Game. His ability to change his pitch and direction will determine his ability to make himself distinct from other artists that are probably influences of his musical preference, but with his talent, there's no doubt he can pull it off.
If you love Hip Hop, you will want to listen to this album. He's got some relevant tracks and shows a great promise. As we looked forward to this album, we continue to look forward to MORE of Annex in the coming months here at BSR. He's definitely become one of our most notable on talent alone.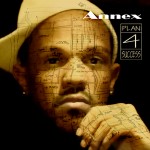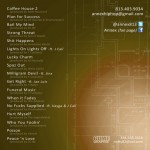 ALBUM RATINGS

Production:
Lyrics:
Mix:
OVERALL: