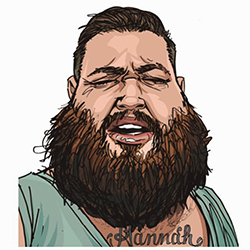 ARTIST(S):
Action Bronson
ALBUM:
Blue Chips 2
OVERALL RATING:





So, this is our first review on one of the most currently talked about emcees in the market. Known for his similarity to Ghostface, it became very obvious this guy was definitely an emcee who stood on his own regardless of what his voice and cadence resembled. From the very beginning, it became clear why so many people enjoy hearing his music, and why he might fling fans off his stage as seen on various YouTube videos.
His delivery is one of his greatest strengths, and the listener can feel this from the very first track of the project. He jumps off SILVERADO with a strong tone proclaiming "this is a grown man sport," and continues bodying beats track after track.
Some slick talk from Big Body Bes makes the intro and interludes entertaining and comical, while he continues to hammer out bars track after track. Honestly, this is a project for those who enjoy the wordplay and menacing lyrics of hardcore emcees. His ability to adapt to any beat and make it a masterpiece of lyrical onslaught is absolutely undeniable.
A few of the tracks have some pretty slick instrumentals and samples of saxophones in IT CONCERNS ME and FLIP YA. Additionally, you will find a few moments in the project where it's strictly acapella.
As with many projects, there are some downsides to this project, and we would be amiss if we didn't point out some of those flaws. JACKSON TRAVOLTA was worth a listen, but the mix on the lows was a bit too high and it Mayhem's delivery didn't really fill the beat well after hearing Bronson go in on the track. Vocals were a bit too low and the guitar riff needed to be in the forefront a bit more on the instrumental mix.
While the project was definitely lyrically ingenious, it did get a bit monotonous toward the end and made it hard to get through the whole album without feeling mentally exhausted. It would have been nice to have some more upbeat tracks with some simpler punchlines. It never hurts to give your audience a quick break from what they expect to hear if done correctly.
Some of the production on tracks like TWIN PEUGOTS and MAN THE MIRROR, and MIDGET COUGH seemed to drag on without much variation. This definitely made it easier to catch the thoughtful wordplay, but it took away the impact these tracks could have had.
Overall, this project was solid. One of the best we have done in a while, and we are looking forward to hearing more from this Queens native. If you haven't jumped on the Bronson wagon yet, you might want to give Blue Chips 2 a listen and see what you have been missing out on.
ALBUM RATINGS

Production:
Lyrics:
Mix:
OVERALL:
Please
click here
for more information on guidelines for our bootslap rating system.