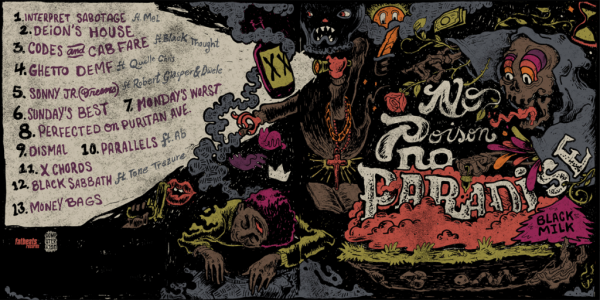 ARTIST(S): Black Milk
ALBUM: No Poison No Paradise
OVERALL RATING:





There has been a common eclectic theme in the more refined emcees these days, and Black Milk is no exception. His latest release, No Poison No Paradise, can be considered one of his more musically mature projects. From start to finish, this project has a mixture of hard-hitting production with musical arrangements you might find on an Erykah Badu album.
This project keyed in on Black Milk's ability to adapt and experiment with his delivery over sometimes random production; which was the strength of this project. From the start of "Interpret Sabotage," the beats are solid and the vocalists in tracks like this and "Parallels" definitely compliment the track and fit well with the production.
Another feature of this project is the wide array of instrumentals, whether they are intro, outros or full length interludes. The production definitely focused on providing a more musically rounded theme around deep drops, thoughtful lyrics and artsy jams like "Sonny Jr." and "X Chords" that simply fit the overall feel of the album.
One thing that is obvious from this album is that Black Milk doesn't mind experimenting, and he pulls it off well with tracks like "Black Sabbath," where he completely dominated the delivery over tight-knit drums and a grunge-like sound selection. Truthfully, sometimes the experimenting went a bit far and didn't blend well as in "Poison," where the background vocals clashed with his own vocals. Nonetheless, he still pulls off some deep thought in lyric with lines like, "What does it all mean, to lose your soul to try to live an american dream / fuck a life here, I'd rather go to sleep and live inside my nightmare."
If you like experimental production and slick wordplay, this is definitely an album you will want in your collection. The only down sides to this project were that in some tracks like, "Deion's House" where the overall production of the song wasn't bright enough and became a bit monotonous. While the lyrics were on point in "Codes and Cab Fare" from both Black Milk and Black Thought, the production just left the listener wanting a little more impact.
Overall, the album was well put together, musically mature and definitely one that lyricists will appreciate. Take some time to check out the video for "Sunday's Best" and "Monday's Worst;" which seemed like a good duo of contrast concepts.
ALBUM RATINGS

Production:
Lyrics:
Mix:
OVERALL:
Please
click here
for more information on guidelines for our bootslap rating system.