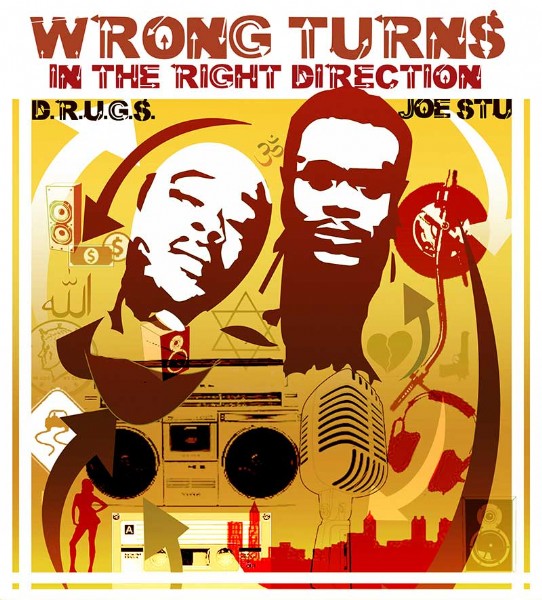 ARTIST(S):
Joe Stu + D.R.U.G.S. (ATL)
ALBUM: Wrong Turns in the Right Direction
OVERALL RATING:





In an age where messages are rarely received, and everything is about the party life, it's refreshing to get projects like these. Joe Stu and Hip Hop producer, D.R.U.G.S. combined to make a project that would exemplify not only the culture of our music; but the struggles and battles that come with being an artist. Conveying personal, political and spiritual messages through powerful production and undeniable lyricism, "Wrong Turns in the Right Direction" definitely lives up to its name.
The Jazz/Soul influence is quickly noticed from the very intro of the project, complete with consciously-driven spoken word over a smooth saxophone and piano combo. This blends nicely with the hard drop of ARE YOU READY, and sets the tone for what could be called, "struggle music."
The tracks that really stood out on this project were the one's featuring vocalists like LIFE feat. Jahah, and LOVE GONE feat. Sage and Najja. Their selection in vocalists complimented the song and the artist; which is not always a strong point for rap artists. Another notable collaboration on this project was CLOUDY DAYS feat. Krystal and Shred TVT; which definitely made it to the BSR playlists.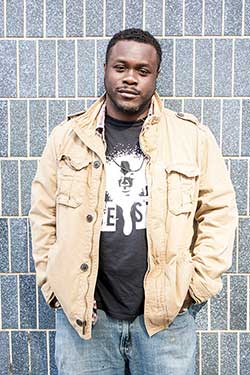 One of the strongest values to the project was the delivery on tracks. Having bars is one thing, but when you can properly execute them over a rhythm and make it your own sound; that separates the rappers from the emcees. Joe Stu's ability to weave concepts and execute them precisely led to a high rating on lyrics. One notable line on REALITY RAP explaining the fraudulent nature of reality TV, he stated, "Basketball Wives got these women thinking if they spread their thighs, that they could get a house and a ride / and a TV show to match plus some child support payments, in the end, I guess it's all entertainment." Rather than judge the watchers and fans, he merely questions whether the concept of watching and participating in the circus is wrong or right. And at the end of that track, he was real enough to just say he likes to watch his shows. How more honest can it get?
Overall, the project was definitely a quality product, and we would recommend it to anyone who loves an artist who is transparent and conscious; yet down to earth enough to make it comical and real to the listener.
Like any other project, this one had a few down sides to it. ARE YOU READY needed a bit more variation on the production as it seemed to drag on a bit. HOOKED wasn't really up to the standard of the other tracks and seemed a little flat on the mix. CLOUDY DAYS, though being one of the favorites, still needed a bit more prominence on the vocals in the hook. And PARTY feat. Los Rider was a great party concept (true to its name), but the mid-range frequencies seemed to clash a little bit and took away from the dynamics of the production and delivery.
Nonetheless, the project from start to finish held strong through the review process. A salute to Joe Stu and D.R.U.G.S. for a great collaboration of music that we believe every Hip Hop enthusiast will enjoy.
CHECK OUT THE MUSIC VIDEO OF THE "GORILLA" SINGLE:
ALBUM RATINGS

Production:
Lyrics:
Mix:
OVERALL:
Please
click here
for more information on guidelines for our bootslap rating system.