Artist(s): Kembe X
Overall Rating: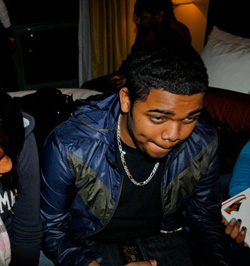 OK, so we came across this submission this week and thought it was DEFINITELY worth a good mention. This was probably one of the better finds we have had in a while, and aspiring Emcee, Kembe X, hailing from the South Suburbs of Chicago exemplifies the very nature of a poetic emcee. His wordplay is ridiculously talented, and his ability to deliver accurately on beat is undeniable in every sense of the word!
From the first track we heard titled, "Balla Shit Till," it immediately became clear this was no average rapper or simple artist. His wordplay and ability to deliver what seems to be tongue twisting adventures without any issue make it apparent this artist is definitely hungry enough to make some serious damage given the right tools.
Throughout all the tracks sent to us, we noticed 3 very glaring issues that needed work; but these were (quite honestly) the ONLY issues with the tracks submitted.
Mixing was very poor. It did not match the quality of his lyrics, and it almost took away from the punch of the song overall, leaving the listener almost wanting more of his lyrics with new beats.
The usage of effects, especially in the initial track "Balla Shit Till," was a bit unbalanced with the final mix. It was almost as if they went back and did this over the master or something.
Too many mid range frequencies (500-700mhz) in the EQ and not enough 120mhz, 2khz and 10khz frequencies in the final output.
If these mixing issues were corrected, Kembe X may have gotten an additional point, and we are looking forward to hearing more of him in the future with some QUALITY PRODUCTION and QUALITY MIXES. Once he has this, we definitely think Kembe X will be quite a force to contend with in the game.
ALBUM RATINGS

Production:
Lyrics:
Mix:
OVERALL:
FACEBOOK LIKE PAGE
http://www.facebook.com/pages/Kembe-X/150406498356725?sk=app_178091127385
TWITTER PAGE
http://twitter.com/kembe_x
YOUTUBE CHANNEL
http://www.youtube.com/kembexandercast24